Digital health trends: The top 10s for 2021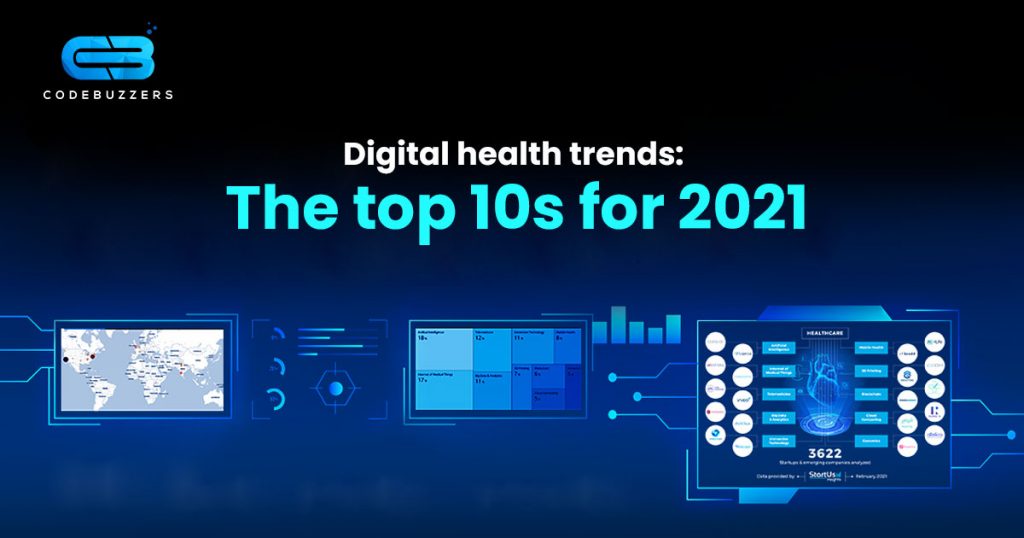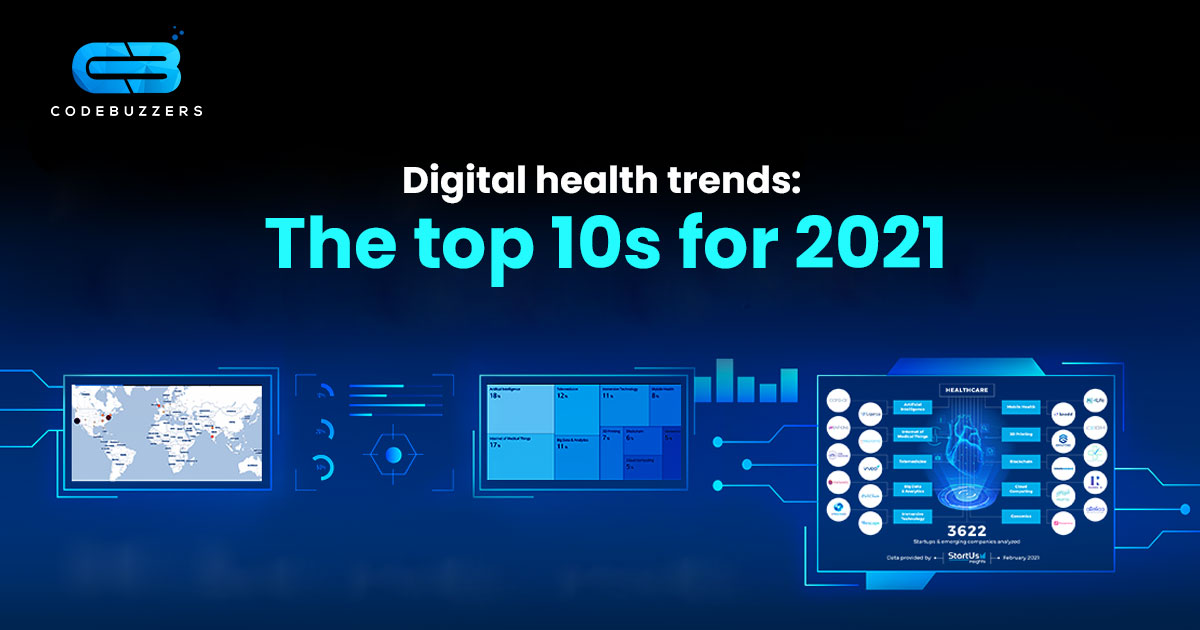 The new digital health era demands continual and dedicated efforts in healthcare innovation to elevate improved or new health systems, services, products, policies, technologies, and delivery methods. These days emergence of tele-medicine has become an effective and potential trend of health care delivery. 
The digital health technologies being unbound into the industry have set up a prodigious environment for digital turmoil. With the digital transformation going at a swift pace, healthcare is predicted to completely transform our regular lives for the betterment.

Most propitious developments in Digital Health:
Virtual therapies
Virtual therapies are utilizing for treating health conditions such as chronic pain, lazy eye, autism, etc. Virtual reality is now trending in the digital transformation in the wellness and healthcare industry. There's hardly any industry that has not been revolutionized by VR. It's being considered remarkably promising for pain management in chronic pain treatment and post-surgery care. Moreover, augmented reality (AR) and VR are at the forefront of drastically lowering surgeons' training time.
AI for earliest diagnosis
Artificial Intelligence (AI) has been the exemplar of advancements and innovation in the healthcare industry as many big companies are eagerly investing in AI to disrupt the industry. The power of AI is often observed in the areas like genomics, precision medicine, drug discovery, medical imaging, etc. The potential of AI-enabled tools to comprehend and sensitive data such as humans have opened up a broad range of opportunities for health industries and clinical practitioners that was previously unrecognized or unavailable.
The term on-demand in the healthcare segment resembles consumers demanding medical or health services at their own convenience apropos of place and time. In fact, gradually, doctors are becoming on-demand healthcare providers to fulfill the changing requirements of the patients in the best possible way with the help of a mobile app development company.
IoT in the healthcare segment
Hospitals and doctors faced major challenges in monitoring patients' health on a regular basis and made recommendations accordingly. With the development of IoT-enabled devices, remote monitoring within the healthcare sector became feasible, which unleashes its possibility in empowering doctors to deliver exceptional care. By leveraging the residential monitoring equipment and IoT-embedded wearables, physicians can monitor and track their patients' health more prominently.
In a previous couple of years, we've witnessed Blockchain technology completely transforming the healthcare industry by placing the patient at the center of the health care system and uplifting the digitalization at an outsized scale. Blockchain in the healthcare industry is predicted to succeed at $890.5 million by 2023.
Technology is playing a pivotal role in assuring the safety and accuracy of electronic health records. Considering its immense potentialities, pharmaceutical and healthcare companies are already asserting its efficiency by investing a lump sum amount of money in Blockchain technology applications.
The solutions providing personalized healthcare are expected to perpetuate their popularity as a consequence of the expansion of the wearable market. Jotting down biometric data is vital for providing care through wearables, mentioned by a mobile app development company. Taking an attempt for personalization in healthcare provides access to such significant domains as management, verification, and control of patient information. 
With a plethora of advantages like comfort, user-friendliness, and convenience of home healthcare, wearable medical devices are obtaining tremendous popularity. Organizations in the healthcare sector are super actively investing in wearable technology gadgets having the potential to supply regular and up-to-date monitoring of high-risk patients and surmise the likelihood of a serious health event.
Increasing technological betterment and customer preference for wearables (sleep monitoring devices, heart rate monitors, activity monitors, blood pressure monitors, electroencephalogram, and electro-cardiographs) substantially impart to global wearable medical apparatus market growth.
Hackers stepped up their utter efforts to attack the healthcare providers most of the time. Such attacks accented to the significance of strong cybersecurity and investment in more secure data storage. IT teams will definitely need to efficiently communicate decent cyber hygiene to staff members to avert attacks and troubleshoot the vulnerabilities as permanently more work goes remote. 
Big data can have a big impact on reducing the speed of medication errors through patient record analysis. It can flag inconsistencies, if any, between drugs prescribed, and therefore, the patients' health condition. Moreover, big data's predictive analysis could facilitate accurate staffing by aiding hospitals to estimate admission rates in the near future, which not only saves money but lessen the emergency room wait times.
FemTech
FemTech is one of the trending technologies in healthcare as more women have decided to commence their very own journey by exploring new-age technologies for exclusively female health. 
It incorporates a variety of technologies and products to address the requirements of females' health. The market offers a wide range of solutions in the field of sleep management, pills prescription, training and fitness, fertility treatment, period tracking, data analytics to identify the risk factors for female health.
The digital health trends in the healthcare segment have become imperative for a mobile app development company in Kolkata. A new decade stipulates to be rich in evolving top healthcare technology trends that represent the notion of providing personalized care for specific patient's requirements within the flawless doctor-patient interaction experience.