Why Should Businesses Invest in Transport and Logistics App Development?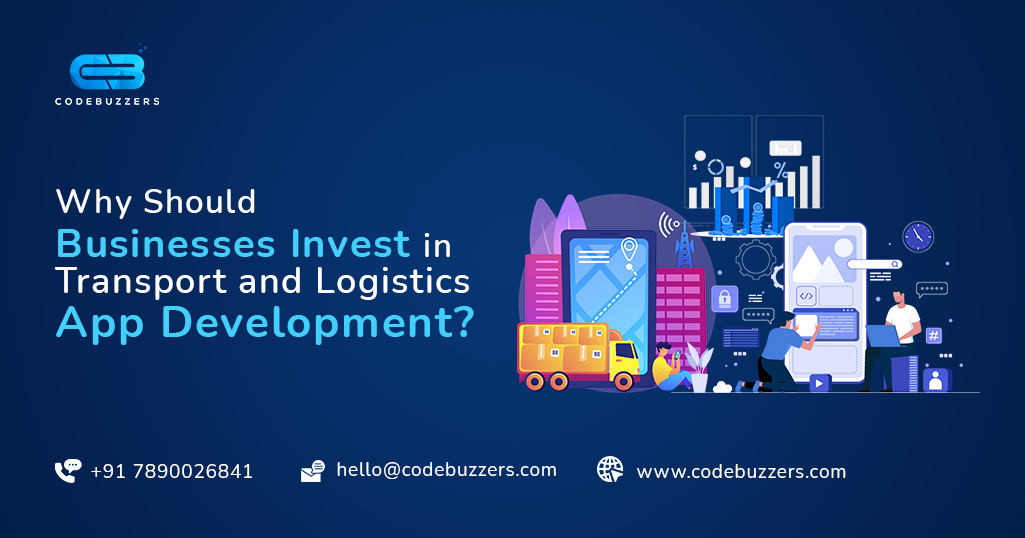 The Logistics Industry is a complex process that involves many moving parts, including drivers, dispatchers, and admins. If any of these components fail, the whole system can crash and go down for the count. That is why businesses should invest in transport and logistics app development to streamline their operations.
The first step in transportation and logistics app development is to define your business goals and challenges, which will guide the app design and architecture process. Once you have this defined, the next step is to find a reliable transport and logistics app development company or a team of developers who can bring your vision to life.
Choosing a transport and logistics mobile app development company whose corporate culture and business values align with yours is important. That will ensure that you will strongly partner with your chosen team of experts and get the best possible solutions.
A solid transport and logistics app development team should include a developer with experience in the logistics industry who will understand your specific business needs and be able to develop the right solution. In addition, the team should have a proven track record, which will help you avoid any problems.
The Benefits of Creating a Transport and Logistics Mobile App
The logistics and transportation industry needs to meet a wide range of customer expectations and deliver quality service. To do so, business owners should adopt an effective mobile app solution that enables their employees to perform all operations on a mobile platform.
A mobile app can also provide a comprehensive overview of important data for managers and dispatchers. That helps them to optimize their delivery schedules and avoid possible delays due to road issues.
Driver & Freight Tracking
Dispatchers and drivers need to track their orders and the cargo they carry to ensure that the right consignment is delivered at the right time. The app's tracking feature will provide them with real-time information about the location of the freight and a map or list to show them their current status.
Multiple Payment Management
Another crucial feature of a transport and logistics app is the ability to accept multiple client payments. This functionality enables them to easily pay through credit/debit cards, online wallets, and other digital payment gateways.
Account Registration
One of the first and most fundamental features you should consider while developing a logistics app is providing users with an easy-to-use account registration process. The process should be simple, seamless, and easy to complete without adding additional fields that may confuse your potential customers.
Multi-Language Support
The app should be accessible to users from around the world with multiple languages integrated into it. That helps the app to become more scalable as it allows the users to coordinate with drivers from different regions and manage their tasks easily.
Customizable Dashboards
A customized transport and logistics app dashboard is essential for storing data and presenting it to managers. This feature enables managers to view shipment and fleet statuses, average data for analytics, and order history in a consolidated form.
In-app chats and messengers are other features that can help couriers and drivers communicate with each other and their clients quickly. This way, they can avoid the time and effort involved in making calls on a mobile device.
Customer Feedback
A transportation app will allow customers to give their input about the service they have received. That will help your company improve its products and services and boost your customer loyalty.
GPS Technology
In-built GPS technology in a logistics app is crucial for ensuring the timely delivery of goods to the destination. This technology is used to track the vehicles' location in a matter of minutes, enabling business owners to monitor their fleets at any moment of the day.
Moreover, it also reduces the likelihood of errors or misplacing data. In turn, it can help businesses save time and money.
Driver Safety
The logistics and transport industry is a complex field that requires special attention to detail to ensure the safety of the drivers, goods, and other people onboard. A transport and logistics app has various features to help the business keep drivers safe, including a driver scorecard.
Conclusion
Developing an app for transportation and logistics is no easy task, but the right approach can bring immense value to your business. However, there are a few mistakes that you should avoid if you want your app to be a success.
If you want to develop a successful logistics app, focusing on user experience and user interface (UI/UX) design is essential. It is not only crucial for attracting new customers, but it can also reduce churn and make your users happy.
You should ensure that your app's UI/UX design is attractive and functional. That will encourage your users to engage with your mobile application and keep using it.
Your app should be able to easily navigate the relevant areas and quickly answer your customers' questions. For instance, if a customer has an issue with a shipment, you should be able to contact them via chat to solve it in real-time.
Another essential feature of a logistics app is fleet management, which lets you track your trucks and drivers in real-time. That can save your staff a lot of time and money.
It can also increase your business's operational efficiency, making scheduling delivery times, pick-up locations, and other aspects of your operations easier. You can monitor your fleet and drivers from any location at any time to ensure they're on schedule to deliver their shipments.
Besides these basic functions, a good transport and logistics app should offer more advanced features to suit the needs of your business. These include route optimization, vehicle tracking, and various other useful features.